MLK2021: Expel, Impeach, Transform.

There are moments in each generation when we are called to join the frontline, this is our moment. We are more powerful than the politics of hate and the moneyed interests who stand to benefit when we are divided. It's our time. 
We call on people across the country to lead in this moment, to show the world how powerful we are, to recenter our focus on the beauty of our movements, to celebrate our gains, the necessity of transformative demands and call on Congress to Impeach, Expel, Transform. 
This is the time we reclaim space, get grounded, tell this country and the world who we are and invite others to be part of our movement. 
Given the threat of white supremacist violence and COVID spikes, we are asking that EVERYONE take precautions and prioritize their safety and the safety of their community. [Read the Covid-Safety Protocols Before Any In-Person Event]
This #MLKDayofAction Toolkit provides suggestions, guidelines and resource links for a variety of actions you can take including:
Coordinating a local Banner Drop
Creating a Sacred Space
Hosting a Vigil
Donating to a Mutual Aid fund
Change your social media profile pic
Join us at 4:00 PM ET for a special broadcast honoring MLK
Scroll down to access resources link and examples.
Be sure to share your action with us
Taking collective action requires sharing our work in order to stand together and show just how united we are. Share your #MLKDayofAction in photos and videos, then tag The Frontline on Facebook, Twitter, or Instagram.
If you are not on social media you can also upload your photo here and we will share from our accounts.
Take Action with Us
Change Your Profile Pic on Social Media:We are asking everyone to change their profile photos across social media platforms to Frontline Gold – offering a visual declaration about the scope, strength and commitment of our Pro-Democracy coalition fighting to TRANSFORM our society in one where our humanity is never in question. Let's turn the internet GOLD today.
Download the official #MLKDayofAction profile square and then share on social media. Sample language is below:
When you change your profile picture, share this content and let your community know why you made the change.
For Twitter, Facebook, and Instagram:
Today I join thousands of people for #MLKDayofAction including switching my profile pic to @wejoinfrontline GOLD. Change your profile image with us to show the strength and commitment of our TRANSFORMATIVE movement for justice and safety. Take action with us here: 
thefrontline.org/mlk2021.
---
Watch Martin Luther King Jr's Three Pillars speech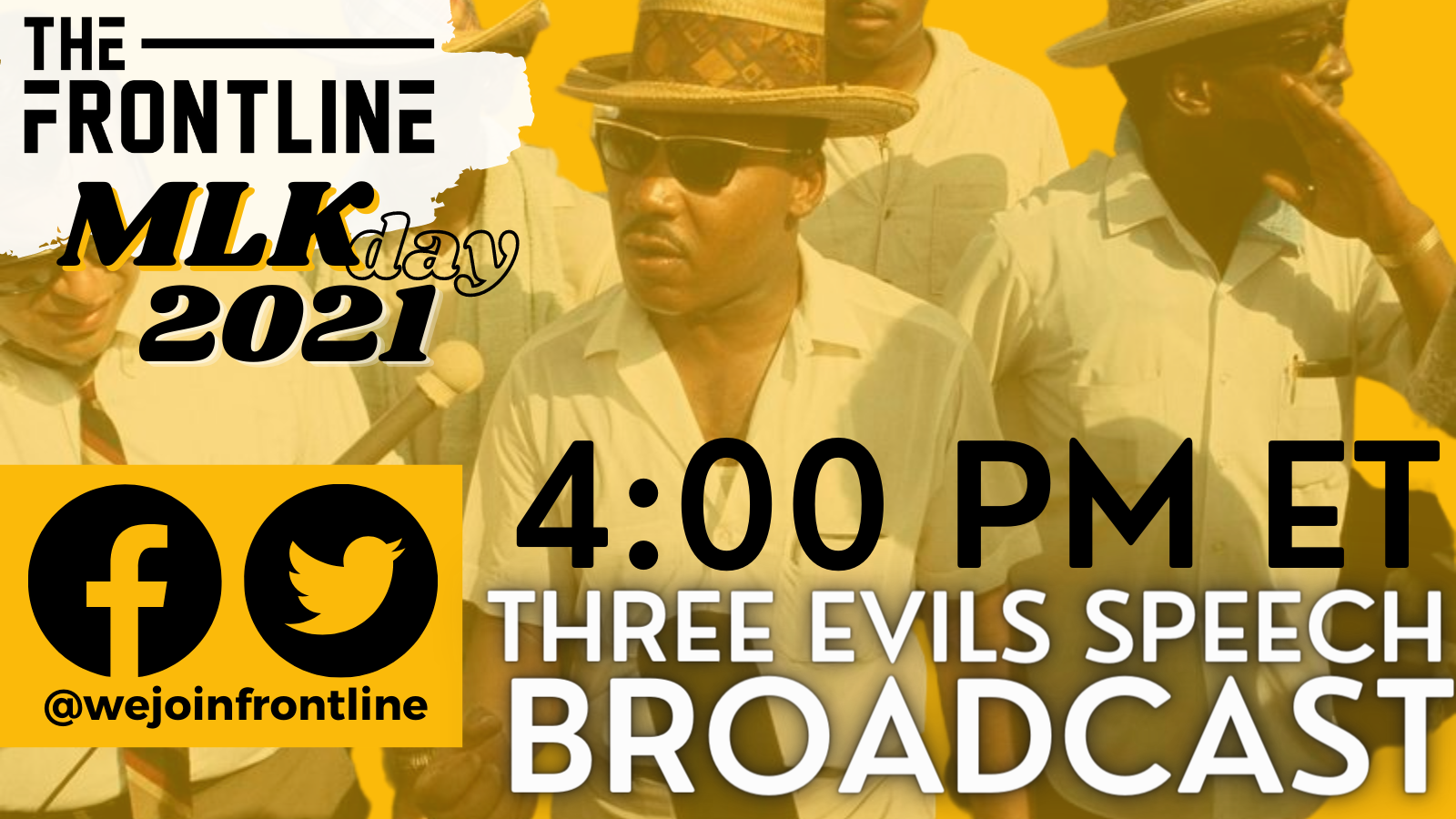 Together we'll watch this historic speech as a community at 4:00 PM ET on Mon 1/18. We will be broadcasting this incredible speech delivered by MLK on May 10th, 1967. We invite you to watch with us on social media and post your own reflections about the speech. Here are few questions to consider responding to after watching the speech with us:
How does MLKs call to action in this speech speak to you in this critical moment?
What about this speech is different from the ways in which we learn about MLK and his work?
What are you called to do after listening to this speech?
---
Sacred Clearing: Building altars, prayer, vigils and smudging:
Join us as we clear the energy and way for the transformation we will collectively bring about.
Read More about How to Build an Altar: https://lonerwolf.com/spiritual-altar-for-meditation/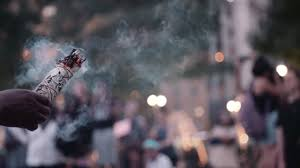 ---
Creative Actions: Billboards & Banner Drops:
Join us as we call on Congress to Convict, Expel and Transform using impactful visuals. Banner drops are a great way to take socially distanced direct action. Below are some examples of Banner drop messages and locations that work well.
You can also learn more about best practices for doing a Banner Drop here.
---
Culture as a Weapon: Joy As Act of Resistance:
Remember when we celebrated with joy immediately after the election. Hate came to us and we responded w/ joy as an act of resistance. Why not start with the #JoyToThePolls Curated Playlists to get you moving: http://bit.ly/JoyToThePollsMusic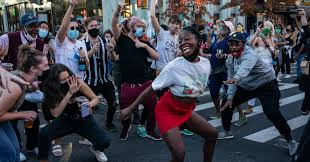 ---
Solidarity: Mutual Aid:
We believe that now is time to not only come together as a community to take action, but to also show up for what our neighbors need (housing, food, friendship). Join us in honoring MLK's legacy in engaging in a day of protecting and loving each other.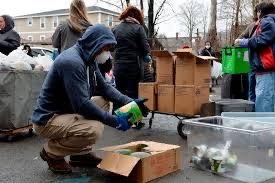 Join The Frontline, Grow the movement: Our power is grounded. Long-term power building join a political home. Movement for Black Lives, Working Families Party, United We Dream Action.
The Frontline Demands: Convict and remove Donald J. Trump; Expel that each Member of Congress who has fanned the flames of white and male supremacist violence and voted against the certification of the election results; Transform this country by investing in our communities and the planet as opposed to institutions and policies that harm our people and the planet; radical democracy from the bottom up; and putting the needs of every day people first.
The Frontline Vision: Read The people's charter.